Certificate of Excellence 2016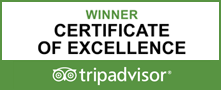 Trip Advisor have rewarded all our hard work by awarding us their certificate of excellence for 2016. It goes to show that if you work hard and give your customers amazing service as we do you get recognised. We must have had 150+ groups through our sessions in the last year and we're elated that our customers feel we offer a 5/5 service.
Thank you each and every one of you who took the time to share your experience online.
You can see our Tripadvisor page